What does 30g protein for dinner look like?
RSVP for this month's cooking club!
I often get asked how I get protein on a vegetarian diet. Can you get enough protein on a vegetarian diet? The answer is yes, but you have to be intentional about it. I try to get 80-100g protein per day: 30-40g from a smoothie in the morning (grass-fed whey protein powder) and then 20-30g from lunch and dinner.
Here's a quick breakdown of my favorite sources
---
Food for Thought
Speaking of cheese, did you see this recent revelation that cheese might be healthier than you think? Reductionist thinking in nutrition science has rung alarm bells in the past about saturated fat in cheese, leading many to believe that cheese is something to "indulge" in and feel guilty about. I'm no nutritionist - but I have come to firmly believe that when it comes to food, the whole is greater than the sum of its parts. Obviously nothing is good in excess, but if we're eating fat from whole foods like full-fat dairy, there must be something about that nutritional matrix that will still be good for us.
Nutritional research is hard and often there is industry money at play, influencing results. However, a big problem with most research on saturated fat is that it lumps together fat from whole foods (dairy and meat) with processed, sugar-laden junk like Twinkies. Anyway, it does seem that perception appears to be changing, albeit slowly, with increasing research showing that saturated fat from whole foods may actually be protective against heart disease. Okay, rant over. But if this struck a chord with you, you might find one of my older articles interesting: When Fat Hit The Fire.
---
Before I get back to protein, please RSVP to this month's cooking club by clicking the button below! It is scheduled for Friday, Feb 24th, 11am-12pm EST (over Zoom). I will be making my Hazelnut Brownies that are uber-fudgy, intensely chocolatey and sweetened naturally with dates! I would love for you to cook along with me, but will be happy enough if you watch :)
I'll share tips and tricks and there should be time for a Q&A! If you don't have the book yet make sure you get it beforehand so you have the recipe. Event details including Zoom link will be updated next week for those who RSVP.
---
Winner, Winner, Protein Dinner!
Here are 3 high-protein dinners (REAL dinners that I had recently, that's why the photos aren't very styled). They are very quick to put together, and serve up an impressive 30g protein.
Dinner 1: Fridge clean-up
This one was pretty last-minute. Stovetop pesto-roasted rainbow cauliflower, garlicky sauteed chard in olive oil, steamed edamame with sea salt and 2 eggs soft-boiled in my Instant Pot. Remember, 2 eggs is not enough protein in a meal, that's why the edamame is important! You could also do pan-roasted tofu in place of the eggs to make this completely plant-based.
Dinner 2: Indian-style
This one has the Siete almond flour tortilla, Trader Joe's channa masala (you can use any packaged lentils) and Greek Yogurt Raita, served with garlicky broccoli sauteed in olive oil on the stovetop (try to cut broccoli and garlic an hour earlier to activate sulforaphane). Avocado and cucumber slices round out the meal.
Dinner 3: Pasta night
Last, but certainly not the least, this one is a high-protein pasta, served with a beet-walnut pesto (you can use any pesto with nuts - but I'm probably sending out this beet pesto recipe next week), sauteed collard greens, garnished with parmesan and dotted with fresh jalapeno.
---
I hope this post gave you some actionable protein ideas! What are your favorite sources of protein?
It is challenging to get 100g protein in a day from whole foods on a vegetarian diet - you would have to eat an awful lot of food. Or use the same 2-3 sources of concentrated protein every day, which doesn't work for me as I get bored easily. That's why I supplement with a protein smoothie in the morning to get a strong start to the day. I will send out some smoothie recipe ideas in the coming weeks. Feel free to share this post with anyone you think will benefit!
---
v8well Good Things
Brand new recommendations section!
To read
To listen
To eat
---
Cookbook News
---
Get your copy of The Vegetarian Reset now!
US | UK | AUS | CAN | Europe | India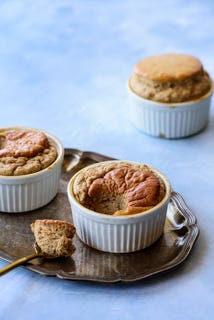 Not sure? Download a free sample.