Discover more from We Ate Well
A community for foodies, exploring the world of wellness through vegetarian food. Weekly low carb recipes, interviews with experts, unsolicited advice and recommendations. From the author of The Vegetarian Reset.
Over 2,000 subscribers
It's Launch Week for The Vegetarian Reset!
And I'm feeling all the feels.
It's here. The moment I imagined almost 2 years ago when I started writing my cookbook. It feels surreal yet solid, the culmination of a tremendous amount of work and yet just the beginning of a new journey - and I am determined to be fully present and experience every moment! I've poured all of my heart into this book-baby and am certainly a bit anxious sending it off into the world, but honestly - I can't wait to hear what you think.
Here's the first time I walked into a local bookstore and saw the book out front! Truly a priceless moment.
Press
The past few weeks have been quite the whirlwind of activity - interviews on radio, TV and podcasts, planning events and trying to keep up with social media. Here's a roundup of a few interviews that you can watch, read or listen to!
I was on NPR, you guys! Still pinching myself about this one - listen to this fun interview on All of It NYC with Alison Stewart here (and you'll also get my Saag Lasagna recipe)

published a really great conversation and another recipe. Listen to a hardcore meat-lover and a hardcore vegetarian agree about eating whole foods!! We're on the same team y'all!

Eating Well published an essay + my Ven Pongal recipe. This one is so special because Ven Pongal is true comfort food for me and I consider my cauli-rice version a triumph. And it was published on the actual day of the Pongal festival, just icing on the cake! Read to learn more about the festival and how to make this fabulously South Indian dish.

Watch me on Today in Nashville with Carole Sullivan, making my Loaded Cauliflower Soup

Cooking with Bruce and Mark - this is a really fun and short podcast interview! We dish about everything from vegetarianism to my rant about salads to dessert.
Events coming up!
Jan 20: 10-11am ET: Join me to make my Lemon Risotto - a virtual event with the Darien Public Library

Jan 24, 5-6pm ET: I will be cooking my fiery Chutney Ramen for the International Association of Culinary Professionals (IACP) and would love for you to attend the virtual session: RSVP here.

Jan 25th and 26th: California friends, listen up! I am going to be in San Francisco and the Bay Area for 2 events at the end of the month. These will be author chats + book signings - please come if you can and bring friends, your support would mean the world to me!
LAST CALL: Order before Jan 17 and get 15 bonus recipes!
US | UK | AUS | CAN | Europe | Get your pre-order bonus!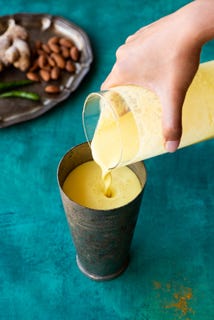 Not sure? Download a free sample.