Discover more from We Ate Well
A community for foodies, exploring the world of wellness through vegetarian food. Weekly low carb recipes, interviews with experts, unsolicited advice and recommendations. From the author of The Vegetarian Reset.
Over 2,000 subscribers
Launch week was equal parts exhilarating and exhausting - but I have to tell you I enjoyed every single minute!! The fact that my cookbook was trending the whole week as the #1 new release in a couple of categories on Amazon was just the icing on the cake!
While I share what I can on social media, this newsletter is special - I invest a lot of my time and resources into writing it and really feel the energy from my readers. So I wanted to publish an exclusive recipe from my cookbook, just for you. I've been told by several testers that this was the best (and easiest) falafel they've ever had. So, here you go! Feel free to share this recipe with your friends and family.
Events coming up!
Jan 24, 5-6pm ET: I will be cooking my fiery Chutney Ramen for the International Association of Culinary Professionals (IACP) and would love for you to attend the virtual session: RSVP here.

Jan 25th and 26th: California friends, listen up! I am going to be in San Francisco and the Bay Area for 2 events at the end of the month. These will be author chats + book signings - please come if you can and bring friends, your support would mean the world to me!
Falafel Salad (from The Vegetarian Reset)

The best falafel I ever had was in the vibrant bylanes of Le Marais in Paris, after standing in line for an hour. After years of trial and error, this attempt gets dangerously close to that flavor without deep-frying! The trick is to blend in the oil with the falafel mixture instead of spraying it on the outside. You can use the air fryer or the oven to get perfect falafel, crispy on the outside, moist and fluffy on the inside.

photo credit: Alexandra Shytsman
Ingredients
FALAFEL
1 cup/100g roughly chopped scallions (both white and green parts)

½ heaping cup/100g dried chickpeas, soaked overnight and rinsed

Packed ½ cup/15g chopped cilantro/fresh coriander

Packed ½ cup/15g chopped Italian parsley

8–10 fresh mint leaves

2 medium cloves garlic

2 Tbsp avocado oil

1 Tbsp chickpea flour

1½ tsp ground cumin

1 tsp ground coriander seed

¾ tsp salt

½ tsp cayenne

¼ tsp baking powder
GREEK YOGURT DRESSING
⅓ cup/70g whole-milk plain Greek yogurt or non-dairy yogurt

1 small clove garlic, minced

1–2 Tbsp water

¾ tsp lemon juice

½ tsp olive oil

¼ tsp fine sea salt

¼ tsp cracked black pepper
OTHER
2 cups/300g chopped salad vegetables (greens, tomatoes, onions, cucumber)

2 tsp harissa or hot sauce (optional)
Directions
Step 1. Combine all the ingredients for falafel except the baking powder in a food processor and blend to a coarse mixture (the texture of sand), scraping down the sides often. Chill in the refrigerator for 30 minutes.
Step 2. Preheat the air fryer to 375°F/190°C or the oven to 425°F/220°C. Lightly spray the base of the air fryer with oil, or spray a baking sheet. (I use an avocado oil spray.)
Step 3. Take the falafel mixture out and stir in the baking powder. Shape the falafel into tablespoon-sized balls and place in the air fryer or on the baking sheet, with room between the balls. (You should have 12–14 falafels.) Spray oil lightly over the falafel balls if desired.
Step 4. Air fry for 15–18 minutes undisturbed, or bake for 20–25 minutes, flipping halfway through. (Oven-baked falafels may not brown as evenly, but will still taste great). While the falafel bakes, mix together all the ingredients for the Greek yogurt dressing and refrigerate.
Step 5. Toss the falafel with the salad vegetables, drizzle with yogurt dressing and harissa, if using, and serve immediately.
Cooking Notes
It's important to use dried chickpeas for this recipe. Do not use canned or cooked chickpeas, as the falafel may come apart easily.

You can add a little more chickpea flour to the batter if it seems watery and hard to shape.

You can prepare the falafel mixture ahead and store in an airtight container for a week in the fridge, or up to 2 months in the freezer. Defrost at room temperature for 4–5 hours or overnight.

Liked this recipe? Subscribe for more.
Get your copy now!
US | UK | AUS | CAN | Europe | Get your pre-order bonus!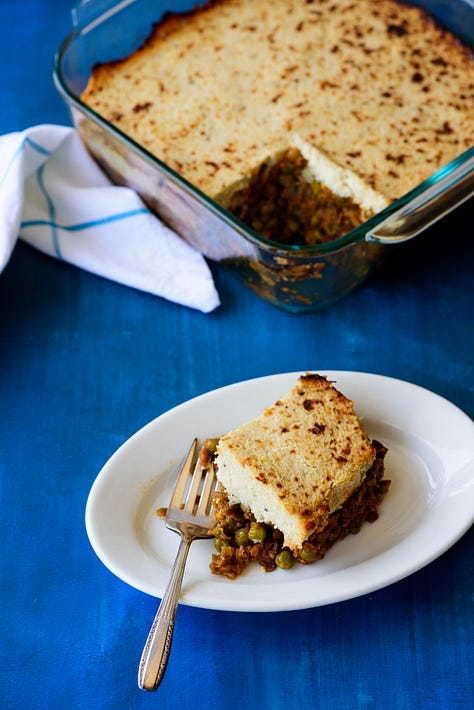 Not sure? Download a free sample.
PS: My Aussie readers - it appears that Amazon is stating a delay for your pre-orders :( I'm so sorry about this - I have asked my publisher to escalate with them, but unfortunately we have little to no control over the murky world of distribution. I hope you got your bonus recipes (it's not too late) and hopefully by the time you cook a few dishes from that list (and also try this falafel), Amazon would have sorted itself out.